Chapter 2 Study Guide
Jump to navigation
Jump to search
Linux Installation and Usage
^ Preparation and installation of Fedora Linux using good practices.
^ Outline the structure of Linux interface.
^ Enter basic shell commands and find command documentation.
^ Properly shutdown the Linux OS
Preparing for Installation
Hardware Compatibility List (HCL)
The minimum requirement s for Fedora 13 Linux can be found :

Preinstallation checklist
A system checklist that can compared against the HCL during installation.
Information will include :

• CPU (Type /MHz)
• RAM (Mb)
• Keyboard model and layout
• Hard Disk size (MB)
• Host Name
• Network card IP configuration
• IP address, Netmask Gatway, DNS servers, and DHCP
• Linux Packages to install
• Video Card Make and Model
• Video Card RAM (Mb)
• Monitor make and model
• Monitor Vsync and HSync ranges
Installation Methods
FTP server across network
HTTP web server across network
NFS server across network
SMB (SAMBA) server across network
Packages located on HD
CD-ROM or bootable DVD media
Performing the Installation stages
Start installation
Choosing language, keyboard and storage type
Selecting hostname, time zone & root password
Configuring storage devices
Configuring the boot loader
Selecting and installing packages
Completing first boot wizard
Starting the Installation
System Rescue – A installation feature used to repair a system from the installation DVD

Can be used to repair a Linux system which cannot be started.

Memory Test – Can be used to test memory and prevent errors. Uses memtest86 utility to test RAM for errors
Checking media for errors
Feature of the default installation
Optional - Good practice with new, unused media
Checks bootable DVD or CD-ROM for errors
Choosing language, keyboard and storage type
This is just a matter of choosing the language you'll be using,

your default keyboard layout and whether or not you'll installing Linux locally or on a DASD (direct access storage device)
Configuring Storage Devices
Can only be one of four basic configurations:

Primary master PATA - had
Primary slave PATA – hdb
Secondary master PATA – hdc
Secondary slave PATA – hdd

Used by newer server systems typically use :

SATA/SCSI –1st disk= sda, 2nd disk = sdb, 3rd disk= sdc, ect.
Unlike PATA can have more than four hard disks
Hard Disk Partitioning
Maximum of four primary partitions
Extended Partition can contain unlimited number of smaller partitions or logical drives
Root Directory (\)
Swap memory – Virtual memory utilized when physical memory (RAM) is being exhausted
Primary Master Partitioning
Linux only requires two partitions minimum :

Root directory (main directory) designated by a "\"
Swap (aka Virtual memory)

NOTE : Doesn't contain a file system and is never mounted to a directory because Linux is responsible for swapping info.

Extra partitions help keep the entire system free from errors.
Basic Linux
Kernel – Loads all components and controls computing activities, the heart of the operating system

Once the BIOS starts after boot-up, it then starts a boot loader (such as GRUB) which then loads the Linux Kernel into memory.
If there is a windows system already on the HD the boot loader can give you the option of which OS you'd like to load. This is known as dual booting.

Terminal – Channel that allows users to log in
Shell – Passes user input to the kernel for processing. BASH shell (Bourne Again Shell) – command-line shell similar to cmd on Windows
Basic Shell Commands
Commands – Case sensitive, indicate program to execute
Options – specific letters preceded by a hyphen (-) following a command
Arguments – specify parameters that tailor the command to the users particular needs

Command line order is this.. (Command) (Options)(Argument)

Command = Ls (list)
Option = -a (lists all files)
Argument = /etc/ntp (refers to the /etc/ntp directory)
Common Commands
You can find some common commands on page 66 of the text.
Metacharacters
Keyboard characters that have a special meaning
($) – Tells the shell that the following text refers to variable
A piece of information that is stored in memory, typically uppercase words, automatically set by the Linux system at login
There's a list of metacharacters used in BASH on page 67 of the text
Help
Include description, syntax, options, related files, and commands
Search manual pages with a keyword use –k

Info pages – include easy-to-read description and hyperlinks
Shutdown Commands
Here is a list of various shutdown commands which can be found on page 73 of the text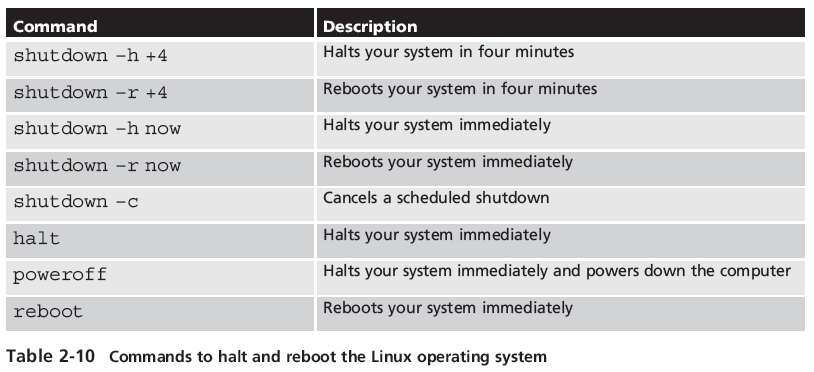 Credit
All info compiled, edited and coded by : Rob Klaers, Clay Wilson, Michael Garin, & Todd Bailly
NOTE : all page numbers reference the Linux+ Guide to Linux Certification 3rd Ed. by Jason W. Eckert ISBN 978-1-4188-3721-1